Book Review: Mindful of Race
Understanding and Transforming Habits of Harm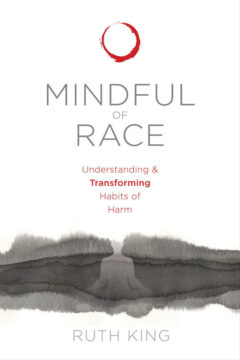 MEDITATION TEACHER, life coach, and diversity consultant Ruth King has been using mindfulness meditation as a catalyst for improved racial harmony for more than 20 years. The founder of the Mindful Members Practice Community and a core teacher at Tara Brach's Insight Meditation Community and the Spirit Rock Meditation Center, she has taught a 31⁄2-day Mindfulness of Race training program since 2010.
King begins her book Mindful of Race by guiding us through our conscious and unconscious narratives and habits around race. She explores the media's portrayal of African Americans as criminals, the ways this contributes to racial violence, and the role that factors like early trauma, ancestry, and group identity play in racial unrest. In the process, we learn about the historical roots of divisive tactics still in use, such as how 16th-century British slave owner William Lynch—the namesake of the term lynching—deliberately sowed the seeds of fear, distrust, and envy to keep his slaves submissive.
WE LEARN TO DEAL WITH ISSUES OF RACIAL DISTRESS WITHOUT ABSORBING THE NEGATIVITY.
In Part 2, we learn to deal with issues of racial distress without absorbing the negativity. Among the methods that King presents are sitting meditation, walking meditation, Metta (kindness) practice, and a means of dealing with difficult emotions known as RAIN: Recognize, Allow, Investigate, and Nonidentification.
Mindful of Race's third and final section offers sugges- tions for how to talk to our kids about race, form racial affinity groups, and have constructive conversations about hot-button topics. Using the Bodhisattva archetype as a reference point, King discusses the relationship between economics and racism, the use of art as cultural medicine, how to handle white privilege, and practices for cultivating compassion and equanimity.
As King writes, "Racism is a heart disease—and it's curable!"
---
Similar articles with the same tag: