Book Review: ​Unsubscribe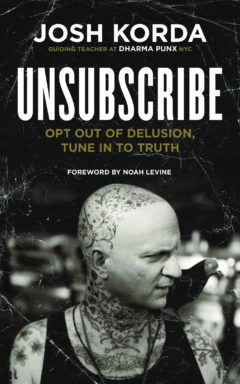 "To be a spiritual rebel," Josh Korda writes in Unsubscribe, "one has to give the middle finger to materialism, self-centered fear, self-serving luxury, financial security. We have to say no." This kind of punk ethos animates much of Korda's first book, which challenges readers to live authentic lives amid "soulless institutions and the spiritually weak."

That Korda draws on punk values is to be expected—he is, after all, the guiding teacher of the Dharma Punx NYC community after having studied with Dharma Punx author Noah Levine. More surprising, perhaps, is Korda's adherence to traditional Buddhist scriptures from the Pali canon, which he often interprets through the lenses of developmental psychology and neuroscience. For Korda, a lot of dukkha, or suffering, is the result of negligent caretakers from childhood or neural imbalance between the left and right hemispheres of the brain.
"If I could summarize my work as a Buddhist teacher and mentor into a single unifying goal or theme," he writes, "it would be providing people with the many tools of the Dharma that allow us to translate and integrate the emotional mind into our conscious, ambitious life agendas." Once we're aware of our emotional needs—which often reveal themselves through the body, such as a locked jaw indicating unexpressed anger or frustration—we can begin to address them in tandem with our headier goals and aspirations through secure relationships with others.
Korda is most inspiring, however, when he encourages us to reprioritize our life goals around the pursuit of meaning and purpose. Is your job unfulfilling? Are you in an empty relationship? Korda suggests that deep transformation is possible through practices he describes, like "Mindfulness of Death" and "Understanding Compulsive Behaviors."
When delivering lessons on authenticity, Korda seems credible due to both his transparency ("There are times I'm envious of other people's successes, even other spiritual teachers I know well and like") and his conversational tone. (The book ends with a section titled "How Do We Practice When Life Really Sucks?") True to its message, Unsubscribe doesn't come across as an attempt by Korda to build his reputation or make a bunch of money, but rather as a way for him to simply share some of the wisdom that he has discovered in his life.
---
Similar articles with the same tag: