Book Review: Inside the Miracle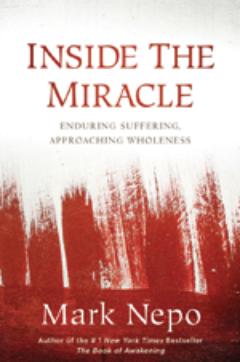 Inside the Miracle
Enduring Suffering, Approaching Wholeness
by Mark Nepo
Sounds True
Spiritual guide Mark Nepo is a consummate storyteller, as evidenced in this collection of essays, poems, and questions for readers that draws on 30 years of reflection about the transformational power of dealing with a traumatic event. In Nepo's case the life-changing event was a three-year journey through cancer at age 36, from 1987 to 1990, which brought him close to death. Additionally, his wife at the time, Ann, had recently been diagnosed with cervical cancer and his best friend, Paul, was going through addiction recovery. Inside the Miracle: Enduring Suffering, Approaching Wholeness, much of which is drawn from Nepo's personal journal entries during and after his illness, touches on relationships and meditation, art and nature; it is about trying to find connections in the world.
According to Nepo, "We are each in a lifetime conversation with suffering and care that, in time, will open us to our strengths and gifts." One interesting aspect of this book is the sections titled "Questions to Walk With," which Nepo calls invitations to be in conversation with yourself (journaling), a friend or loved one, or a larger group to explore the lessons in the book. In fact, this book reads like a continuous dialogue with the author, a giving and taking of insights.
This is not just a powerful book for anyone going through cancer or another illness, but an opportunity for anyone enduring loss and suffering to discover the unexpected gifts of this prolific author.
---
Similar articles with the same tag: