Book Review: This Life Is Joy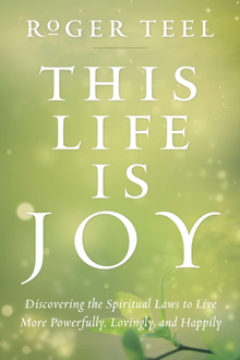 This Life Is Joy
Discovering the Spiritual Laws to Live More Powerfully, Lovingly, and Happily
By Roger Teel
Tarcher/Penguin
Before television (and televangelists), New Thought spiritual leaders relied on the traditional publishing world to spread their teachings beyond the pulpit. Unity's Myrtle and Charles Fillmore, Religious Science's Ernest Holmes and Raymond Charles Barker, Divine Science's Emmet Fox, and others enjoyed a wide following and perhaps even a modest fortune from their writings. Many of their books, despite the arcane language and outdated paradigms, are considered classics today and are still treasured in New Thought communities.
In This Life Is Joy, Roger Teel delivers a welcome and long-overdue refresh of the century-old classics. Even New Thought literature junkies will find some—well—new thinking in his interpretation of progressive spirituality.
Teel enlivens his seven pillars of truth and nine portals of transformation with engaging, though perhaps apocryphal, stories that are relevant and encouraging. Tackling real-life challenges like forgiveness, judgment, fear, change, and uncertainty, he avoids easy platitudes and trite solutions, instead offering compassionate perspectives and constructive opportunities for resolution through prayer and spiritual practice. For example: "Fears are a natural part of our journey into spiritual empowerment," he writes. "Forgiveness is one of the highest expressions of self-love." And, "In our judging we are secretly yearning for assurance."
Teel is the spiritual leader of Denver's Mile Hi Church, an honest-to-God "megachurch," where he inspires thousands of members with engaging and contemporized interpretations of so-last-century spiritual teachings. Now 21st-century seekers can enjoy a precious reminder that faith is a quality worth cultivating, that prayer works, and that life really may be a joyful adventure.
---
Similar articles with the same tag: