Book Review: Professional Troublemaker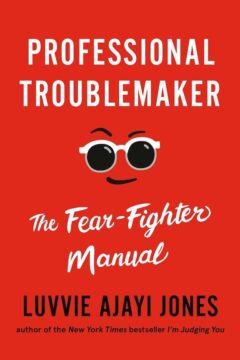 Professional Troublemaker: The Fear-Fighter Manual
By Luvvie Ajayi Jones
PENGUIN LIFE/VIKING
Imposter syndrome is real—just ask Luvvie Ajayi Jones, author of the New York Times bestseller I'm Judging You. Jones once felt so much self-doubt that she was scared to call herself a writer. She was filled with so much fear that she almost skipped the Ted Talk that established her as one of her generation's sharpest voices.
Her new book, Professional Troublemaker: The Fear- Fighter Manual, provides a roadmap to help conquer fear and quell those inner voices telling us that to try is to fail. "One of the things I've learned in my journey is how much fear could have stopped me at any moment from doing the things that changed my life," she writes. With trademark humor, Jones urges us to become "professional troublemakers," people who don't let fear stop them from making meaningful moves in life. "Professional troublemakers recognize that fear is real, and that it's an everlasting hater, but it must be tackled," she writes.
The book is split into three sections—"Be," "Say," and "Do." In "Be," Jones focuses on tackling insecurities, while in "Say" she pushes us to use our voices for our own greater good. Finally, "Do" takes all the inner work we've been doing and urges us toward action. Throughout, Jones provides simple exercises to help boost self-confidence, including crafting a personal mission statement and writing a self-affirming Yoruba oríkì poem.
Embracing a strong identity, being willing to fail, and speaking truth to power is at the heart of being a professional troublemaker, according to Jones. As a Black woman, she acknowledges that this is harder to do if you're marginalized, but, ultimately, you must "own your own dopeness" and be committed to pursuing good trouble. The things that we must do are more significant than the things that we are afraid to do.
"I think it's important that we know what our problems are, and that we create solutions for them," Jones writes. "We need to create the world we prefer to live in."
---
Similar articles with the same tag: