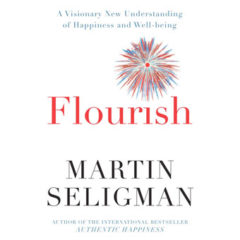 Flourish: A Visionary New Understanding of Happiness and Well-Being
By Martin E. P. Seligman
These days, we are hungry for a new definition of the "good life." Fractured relationships, crumbling economies, environmental crises, and a continuous state of war all have played their part in chipping away at what was once thought to be the basis for happiness. So what does it really mean to be happy and, far more than that, to flourish?
Dr. Martin E. P. Seligman, a pioneer in the Positive Psychology movement and the best-selling author of Authentic Happiness and Learned Optimism, has been instrumental in helping to shift the focus of psychology from its emphasis on mental suffering and its symptoms to the study of what it takes to create a meaningful, fulfilling life. In Flourish, he turns his attentive and experienced eye from mere happiness (which he defines as being in a good mood and judging your life as satisfying) to the richer and more nuanced concept of well-being.
Dr. Seligman introduces the "New Prosperity," a concept based in optimism, and he shows how it affects everything from the health of a marriage, to recovery from illness, to the fluctuations of the stock market. Rather than focusing on gross domestic product, his new vision of prosperity combines wealth with well-being to result in a healthier, happier citizenry. He presents a rather startling idea, given the current state of affairs: that if history were to repeat itself, such a focus might result in a new Renaissance, appropriate for the twentyfirst century but similar to the one that occurred when mid-fifteenth century Florence — rich, well-fed, and at peace — decided to invest its wealth in beauty rather than in conquest.
Examples of how enhanced wellbeing has benefited people in fields as diverse as the military (successfully improving the emotional resilience of soldiers during and after service), business (improving goal-setting and performance), medicine (using optimism to achieve positive outcomes in cases of cancer and cardiovascular disease), and education (increasing students' learning ability and motivation) show that devoting oneself to the cultivation of one's own well-being is not a selfish endeavor; rather, it brings benefits to the wider world. As Dr. Seligman affirms, "When individuals flourish, health, productivity, and peace follow."
---
Similar articles with the same tag: