Music Review: Radiance Mixes: Tibetan Bowls with the Mantras of Deva Premal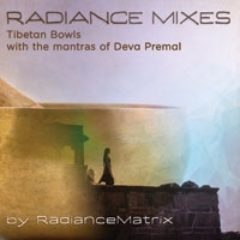 Paul Temple, the artist who goes by the name RadianceMatrix, is a practitioner of Tibetan Buddhism whose music naturally embraces the vibrations of Tibetan singing bowls. "I seem to have a lot of karmic Tibetan relationships," Temple told S&H. His second album, Radiance Mixes: Tibetan Bowls with the Mantras of Deva Premal, folds vocal chanting into the mix for a new take on mantras that Deva has recorded and sung around the world for almost 20 years with her partner, Miten.
"The album manifested pretty magically," Temple told S&H. "The bowls are an amazing gift and work very well with Deva's voice. They are each a whole sonic vortex of magic unto themselves and in combination they go to beautiful spaces. I approach them as a musical instrument rather than just sound healing sessions. The bowls generate Vajra energy—pure diamond light that clears all obscurations."
Temple has been a part of the management team for Deva and Miten since 2001, and Radiance Mixes features nine slow and spacious Buddhist and Hindu chants, including the Mahayana mantra "Om Mane Padme Hum" and the "Gayatri Mantra," an ancient Sanskrit text that Deva's parents sang to her while she was being birthed and which she sang years later to her father when he was at the end of his life.
"The bowls have their own sort of guidance and energies," said Temple. "I feel there are ancient Tibetans that speak through the bowls and give me a lot of insight about how to work with them."
---
Similar articles with the same tag: