Music Review: Jala
Charanpal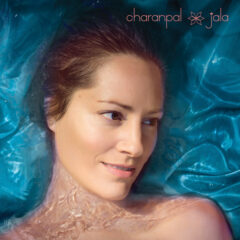 It's for good reason that Charanpal's latest album has a more somber feel than its predecessor, 2015's Aeons. Named after her miscarried child, Jala contains music that the American vocalist/multi-instrumentalist created to help ease the grief of her loss.
Charanpal, whose singing is as sweet and silky as ever, plays instruments including guitar, harmonium, piano, banjo, and kalimba on these eight devotional chants, whose melodies she believes were composed by this album's namesake. In addition to cello, drums, and synth from various guests, these songs are enhanced by binaural beats and sampled sounds such as whale calls.
Jala's mantras for healing and releasing grief are largely sung in Gurbani, a Sikh term that means "words of the guru" or "songs of the guru." One notable exception is the opening track, "Blue Lotus Feet (Asherah)," which begins with a chant to the Divine Mother in English and ends with a dreamlike, slow-motion Hebrew chant to the goddess of Heaven and fertility in an ancient Semitic religion.
Arguably the most upbeat offerings on this album are "Rivers" and "Puta Mata Ki Asis," the latter being a shabad (sacred song) composed by the fifth Sikh Master, Guru Arjan, as a mother's prayer for her child's well-being and liberation in this lifetime. Some call-and-response vocals on this tune from the Redwood Chamber Choir of Santa Cruz, California, evoke images of a dialogue between mother and child.
One of Jala's most touching moments occurs in "On the Shore," in which Charanpal sings directly to her unborn daughter in English: "Light will one day split me open, and I will search no more. When I come crossing this world ocean, I'll find you on the shore."
---
Similar articles with the same tag: