Music Review: The Earth Wants You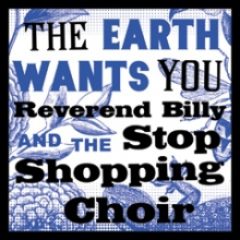 The Earth Wants You
Rev. Billy & The Stop Shopping Choir
Creative Commons
Rev. Billy and the Stop Shopping Choir have been arrested more times than your average Gospel church band. These activist-musicians were once arrested at Disneyland for singing on Main Street. (See Morgan Spurlock's 2007 documentary What Would Jesus Buy.) Now the harbingers of the Shopocalypse are back with a spirited new album—The Earth Wants You—that has New York's favorite anti-Capitalist preacher counseling us to engage in social action on songs like "Monsanto Is the Devil," "Climate Change Blues," and "Revolution." The Earth Wants You is a Gospel-blues kick in the conscience.
"We think consumerism is the reigning fundamentalist church in American culture, with its subset of militarism," William Talen (aka Rev. Billy) told S&H. "We're singers who risk arrest together in nonviolent direct actions. We sing inside banks that finance climate change emissions."
They've also opened for Neil Young on his Monsanto Years Tour and have sung out in bank lobbies, where the Reverend has been known to perform exorcisms of greed. They performed during Occupy Wall Street and later traveled to Ferguson, Missouri, to challenge racist police violence. On "We Are the 99%" the choir sings "Our system must protect our rights!" and the funky bass line of "The Human Blues" transitions into the somber naming of 13 people killed by police, including Amadou Diallo, Tamir Rice, and Oscar Grant. "Can we change?" asks the choir.
"Slowing down your consumption is a spiritual act," says Rev. Billy. "Each of us in the Church of Stop Shopping is in recovery from our grandparents' religious fundamentalism. We're Jews, Baptists, Catholics, Buddhists, and Hindus. We hold hands and talk straight at the earth. It's an experiment. It's a veggie-powered jet ski off a cliff. Let's slide!"
---
Similar articles with the same tag: