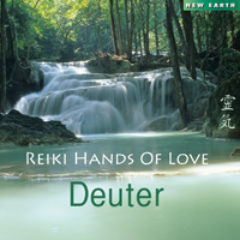 Deuter
Reiki Hands of Love
NEW EARTH RECORDS
Reiki Hands of Love is a sensitive, melodic journey wonderfully designed for a connected mind-body experience. From the opening piano notes and sweeping synth of "Morning Light Silhouettes" to the final ambient vocals of "Free Forever," this gentle hour of sweet music is fluid, calming, and clear.
A follow up to Reiki Hands of Light, this new album is the work of new age master musician Deuter, who is also a Reiki practitioner in Santa Fe, New Mexico. Peaceful and calming sounds have been the center of his prolific career, resulting in over 60 albums since 1970.
German-born Deuter enlivens and enriches this album by including a variety of instruments that he's continued to add to his repertoire, including shakuhachi, drums, cello, koto, sitar, santoor, Tibetan singing bowls, and keyboards. Simple melodies rest atop ambient soundscapes that inspire a relaxed state of open receptiveness. Songs like "Cloud Surfing" and "Unknown Doors" are ideal for massage, Reiki, and other healing arts. Fittingly, this paragraph was chosen by Deuter to appear in the liner notes for Reiki Hands of Love: "The secret of health for both mind and body is not to mourn for the past, not to worry about the future, or not to anticipate troubles, but to live the present moment wisely and earnestly." Relax and enjoy.
---
Similar articles with the same tag: