Book Review: Become Ocean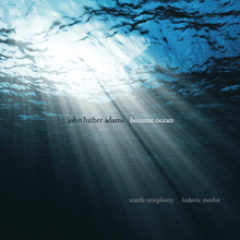 Become Ocean
John Luther Adams
CANTALOUPE MUSIC
Global warming and climate change are on the minds of many these days. John Luther Adams is no different. The 61-year-old Alaska-based composer has said that his new recording, Become Ocean, has a lot to do with the current global environmental crises.
The Pulitzer jury seemed to agree when they awarded Become Ocean the 2014 Pulitzer Prize for Music and described the album as a "haunting orchestral work that suggests a relentless tidal surge, evoking thoughts of melting polar ice and rising sea levels."
Adams's compositions are often inspired by natural landscapes and are sometimes performed outdoors. Inuksuit (2013) was performed by a percussion ensemble in the Vermont woods. While composing Become Ocean, Adams lived near the sea and slept with the windows open at night to let the sound of the ocean inspire his musical ideas. The 42-minute piece was composed for three orchestras that create vast textures and rhythmic patterns that wax and wane with changing currents.
In an essay titled "In Search of an Ecology of Music" Adams explains, "The central truth of ecology is that everything in this world is connected to everything else." And "Music can contribute to the awakening of our ecological understanding. By deepening our awareness of our connections to the earth, music can provide a sounding model for the renewal of human consciousness and culture."
The Seattle Symphony will perform Becoming Ocean in New York on May 6th at Carnegie Hall, with Ludovic Morlot conducting.
---
Similar articles with the same tag: