Music Review: Nocturne: Music for the Native American Flute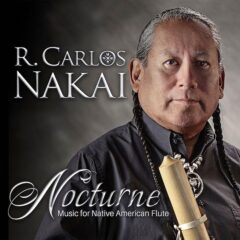 Nocturne: Music for the Native American Flute
R. Carlos Nakai
CANYON RECORDS
NOCTURNE is R. Carlos Nakai's first solo album since 2008. These 12 melodies in four movements are deeply soothing and performed on Native American flute in the traditional style that Nakai has been committed to preserving since his first album Changes in 1983.
"The instrument was actually invented by the Plains people for meditation and, as we say, to sing how we feel about being in the world," Nakai told S&H.
R. Carlos Nakai has collaborated with many musicians including Philip Glass, Peter Kater, and Paul Horn. He's released 40 albums and received 11 Grammy nominations.
A Dine' (Navajo) and Ute native, Nakai grew up participating in ceremonies with various Native American tribes. He told S&H that Nocturne represents, "The journey of becoming human and becoming of service." He explains, "The songs deal with discovering how to be in the world, learning how to communicate. And how one's self belongs to one or more cultural heritages and then we follow our own road. We learn about becoming enlightened and centered within ourselves. And finally, this is what I want to do in the world. That's the whole premise of indigenous, Native American, thought: How will I become of service to others? In Nocturne it's in the sound."
Nocturne was designed to be heard in continuous play mode and the album takes us on a meditative journey of long tones, percussive accents, and smooth melodic arpeggios. "Here I am now, becoming an elder," reflects Nakai. "When I finally go through that doorway, I'll still be learning. It's sort of an adventure, to me, to be in the world."
---
Similar articles with the same tag: