On Look Long, Indigo Girls' May 22 album release, Amy Ray and Emily Saliers continue to strive for a more just world.
SINCE THEIR FIRST ALBUM was released in 1989, Indigo Girls have been dedicated to making great music while also striving for social justice. Amy Ray and Emily Saliers have co-created 16 albums about love, loss, spiritual growth, and taking positive action in the world. In 1993 the two singer/ songwriters and environmentalist Winona LaDuke co-founded Honor the Earth, a nonprofit dedicated to indigenous environmental justice. They have also granted more than $3 million to Native-led grassroots groups.
While both venture out to engage in other projects and explore additional musical spheres, the two always return to the guitar strumming, deep-hearted folk-rock for which the duo is known. In 1990 Ray started the Daemon record label for punk and experimental rock. She has created six solo albums with her band, The Volunteers, with guest musicians including Joan Jett. Saliers produced her first solo album in 2017, Murmuration Nation, and for years owned a restaurant in Atlanta. She also co-wrote a book with her theologian father, Don Saliers, A Song to Sing, a Life to Live: Reflections on Music as Spiritual Practice (2006). "I believe that good energy attracts good works and that spirits can speak through people," explains Saliers.
"I believe in an all-present, can't-even-be-described, all-dimensional presence! I try to stay in touch with that and I let it guide me by trying to do the next right thing."
Ray adds, "The biggest part of my spiritual work is to do something concrete every day that helps somebody else. It's putting into practice that idea of doing good in the world. Instead of getting in my head too much, I try to get in touch with my friends in the native communities and find out what different groups are doing and ask, 'What can we raise money for?' And then take food over to the food pantry and volunteer for a shift. My faith is really based on good works as much as anything else."
On Mother's Day this year, Indigo Girls participated in a special livestreaming concert to raise funds for the United Nations Foundation. Can't Be There Today was organized by Billy Bragg and the City Winery All-Stars and also featured Rosanne Cash, Richard Thompson, Rufus Wainwright, Mary Chapin Carpenter, and others.
Look Long is the new album from Indigo Girls. Released on May 22 by Rounder Records, the album was recorded at Peter Gabriel's Real World Studios near Bath, England. Indigo Girls reunited with producer John Reynolds and his band for Look Long, the same combination that resulted in their 1999 album Come On Now Social. "John Reynolds and that whole band, we've known for decades now and they're just our family across the pond," Saliers told S&H. "We have the most respect for their musicality and humanity. Every member of the band plays things that bring the songs to a better level."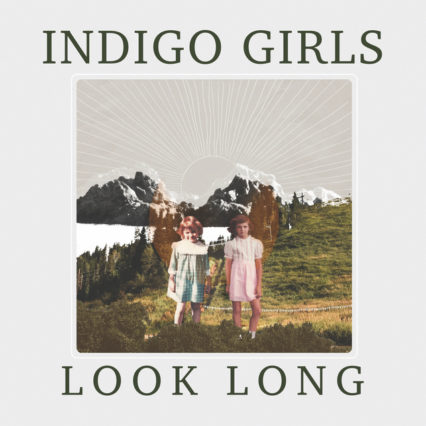 "Everyone I know can sense Armageddon / We want to believe in something / We're unsettled" —From the title song on Look Long by Indigo Girls (2020)
On Look Long, Indigo Girls continue to strive for a more just world. "There is this sense of social unease that I've been feeling a long time, but particularly after the 2016 presidential election," explains Saliers. "In this country, the only way to swing things back at all is to change the administration and elect new people into local systemic. The song "Look Long" is about a paradigm of long-term vision in order to get back to a sense of, 'Okay, we're at least working toward equity and fighting racism within ourselves, inwardly and outwardly.' It's a song about perspective."
"These problems don't go away with something like this pandemic. A lot of them get worse, and some of them get pushed aside," adds Ray. "What we're doing now is the same thing we've always done: Amplify those underheard voices."
"Music has always been a balm and continues to be," Saliers reflects. "I'm probably in touch with my musician friends even more now than before the pandemic. We're listening to music and talking about music. Music really is a great comfort." Ray wholeheartedly agrees: "Music is always part of the fabric for me. Right now, poetry is really meaningful. I sometimes don't take the time to meditate on such a short form. During this time, I've tried to do that more."
"We don't stop and reflect on the trajectory of our career unless we're asked about it," says Saliers. "We're dedicated to continuing to make music. I observe the world through my songwriting; that's an active part of who I am and it's not tied to a career, per se—only as a result of it, and finding Amy, and getting on this path together. We are always a band that is in the moment, that's still creating. We just so happen to have ended up doing it for 40 years."