KAYA: Born Under the Star of Change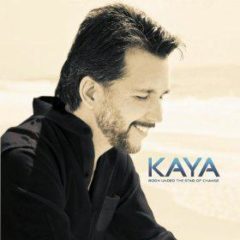 Kaya, the name the artist uses as an acclaimed spiritual writer, was born in Montreal, Quebec, in 1968 and given the name Francis Martin Lavergne. His illustrious musical career began when, at the age of six, his singing talent was discovered by a church choir director. At seven, he was performing concerts and winning awards — and then a bicycle accident left him in a coma for several weeks. During that time, his dreams and visions affected him deeply, but he kept them secret. Though his parents were not religious, Kaya's deep faith grew, together with his talent, and he surprised those around him with his wisdom. A rapid rise to success in French Canadian professional show business (under the name Francis Martin) meant constant performing, recording, and living from one show to the next, but he continued to have intense, private spiritual experiences.
The birth of his daughter called all his success and its trappings into question, and his spiritual quest took on a new importance for him. He left the music world at the height of his fame, turning down a lucrative contract to live a life of service and anonymity in the United States. During all of this, visions, dreams, and synchronicities led him to an in-depth study of dreams and symbols and to meeting his "twin flame," Christiane Muller, who became his wife.
Kaya became renowned for his teachings on angels, dreams, and symbols, and together, the couple produced a 24-CD collection and several books on these topics. In 2001, an encounter with philanthropist Jean Morissette led to the founding of their publishing house and non-profit organization, UCM (ucm.ca), which now has more than 400 volunteers worldwide and publishes major works in the human development field. Kaya has written several international best-sellers and is considered a modern sage and one of the greatest international specialists in the interpretation of dreams, signs, and symbols. His return to the world of music in 2011, after a 15-year hiatus, was a much-celebrated event.
Born Under the Star of Change is as much the documentation of an intense spiritual life as it is a vital and uplifting musical experience. With its contemporary rock style and heartfelt, fervent lyrics that express the deepest longings of the spirit, Kaya's album carries a powerful message of wonder, oneness, purpose, and change.
---
Similar articles with the same tag: