Music Review: All Is Love Is All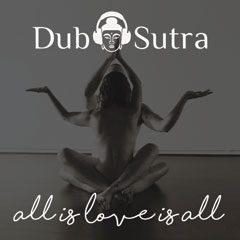 All Is Love Is All
Dub Sutra
Dub Sutra
Like Dub Sutra's first album, 2012's The Rise of Downtempo, this new release from this California-based duo is a thoughtfully crafted weave of digital and organic sounds. Husband-and-wife team Charlotte and Chris Proud bring acoustic instruments like tabla and piano into their downtempo electronica, creating a rich fusion of devotional chanting, yoga music, and sound healing.
While Dub Sutra's trademark layered vocal harmonies are in full evidence on All Is Love Is All, the album also makes copious use of the spoken word. Some examples of this are the Moby-like dub track "Bow to You," which incorporates excerpts from Jamaican yogi Ian Mair's poem "I Bow to You," and "Maya's Dance," which sets pieces of Dr. Maya Angelou's poem "Still I Rise" to a three-chord progression enhanced by multiple layers of synths. Charlotte recites scientific data on meditation on "Heightened Awareness," an electro-dub tune that also features a chant to the Hindu guru Ammachi from Chris and some Indian raga singing from guest vocalist Priya Mohan.
Perhaps the album's most beautiful piece is "Mira My Mirror," a voice and guitar–driven song of devotion to Chris and Charlotte's daughter Mira: "Mira, the sun has risen to give this day to you. All of the birds and the trees have awakened to play with you. Mira, the song on the wind is singing to say to you, in love, 'Mira, Jaia, ocean of Gaia.'" This song is clever as well as touching: mira means "to look" or "to see" in Spanish, thus evoking the image of parents looking at their child and seeing their own divinity mirrored back at them.
---
Similar articles with the same tag: