Music Review: Life on Earth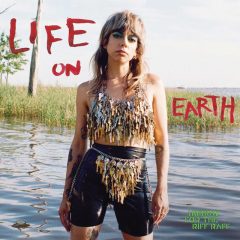 Life on Earth is the eighth studio album from Alynda Segarra and their band Hurray for the Riff Raff. Minimal electronic synth-rock is the raft these songs ride upon, with lyrics that are raw and inquisitive, searching for healthy ways to sail forward through life. Segarra explores freedom and resilience while digging into personal and collective traumas.
Segarra describes the song "Pointed at the Sun" in the liner notes as "seeing old patterns and trying to break them, old ideas of worthlessness or patterns of relationships that no longer serve you. Deciding that you do not deserve to suffer. Choosing a new way of being." Segarra describes the title song as a "nature punk manifesto about survival."
Now 34 years old and living in New Orleans, Segarra drew inspiration for Life on Earth from an array of sources, including Adrienne Maree Brown's book Emergent Strategy and poet Joy Harjo, the first Native American person to be United States Poet Laureate. The song "Nightqueen" features the voice of Ocean Vuong, the award-winning Vietnamese American poet and author of On Earth We're Briefly Gorgeous.
"Precious Cargo" is a call to close ICE immigration prisons and is based on Segarra's own activism with the group Freedom for Immigrants. Segarra helped to free two men who had been held for over a year in inhumane conditions at a for-profit ICE jail in Louisiana. Segarra sings, "When we made it to the border / I jumped and I was detained / They split me from my family … Me sleep on the floor for 17 days … Me hate you ICE."
"You could call Life on Earth survival music for the end times," writes Segarra. "But not just surviving—learning how to thrive. The importance of adapting and learning from nature—those were the themes that kept coming to me."
---
Similar articles with the same tag: