Music Review: Radio Waves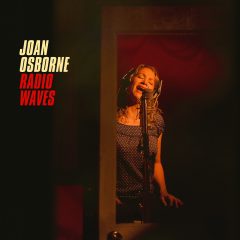 Joan Osborne's new album, Radio Waves, is a great idea that wouldn't have happened without the pandemic. It's a collection of rediscovered recordings from live performances at radio stations by Osborne and her band between 1995 and 2012. The mixes are stellar and the selection of 13 songs highlights Osborne's powerful vocals and high-energy band.
"During the pandemic, we were forced to stay home and all of our plans were scrapped," Osborne told S&H. "I ended up going through closets I've been meaning to clean out for seven years. I discovered all these old tapes, CDs, and files from many radio visits I've made over the years."
The recording of "Saint Teresa" dates back to a 1995 appearance on KCRW in Los Angeles and Osborne gives it everything she's got. "The wailing vocal quality on 'Saint Teresa' is because I was listening to a lot of Nusrat Fateh Ali Khan," Osborne remembers. "He was a Pakistani singer of qawwali style music, a spiritual music of Pakistan and India that's very much about reaching this ecstatic state and getting you closer to God in the same way that American gospel music is. It's one of my favorites on the record."
Radio Waves includes impassioned performances of "One Of Us" recorded for Dutch radio in 2001 and "Shake Your Hips" performed on New York's WXPK in 2012. "That track really lets you see the power of this great band. It's like hopping on a Harley Davidson!" laughs Osborne. "You have this amazing power behind you and it lifts you to places that you would never have gone to before as a singer." The album ends with a 2002 cover of Sly and the Family Stone's "Everybody is a Star" recorded at KROQ in Los Angeles.
---
Similar articles with the same tag: