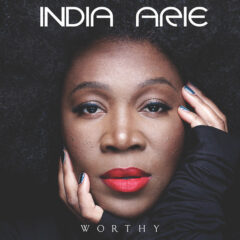 Gender aside, the line "In a world of cocaine, he's like fine champagne" is a fair description of its creator, who is about as tasteful and genuine as it gets in the pop world. The lyric in question comes from "That Magic," the lead single from socially conscious soul/R&B/hip-hop/pop singer/songwriter India.Arie's first full-length offering in five years. United by a common theme of self-worth, Arie's latest songs are some of her most overtly spiritual ones yet.
"What If?" makes a powerful opening statement, with Arie rhetorically asking, "What if Martin didn't stand up? What if Rosa didn't sit down? What if Malcolm didn't man up?" While she places an increasing emphasis on African-American women as the song progresses, the vocalist encourages everyone listening to join the ranks of these heroes by taking their own stand.
Arie, who approaches songwriting as a spiritual practice, intersperses Worthy's many romantic songs with contemplative tunes like "Hour of Love," which advocates Buddhist lovingkindness meditation. "Prayer for Humanity" is a plea for peace and harmony. The acoustic guitar-driven ballad "We Are" reminds us that we are "the Alpha, the Omega—we are everything; the One," and the album's title track urges, "Listen up to this truth: You are me and I am you. Every one of us is worthy."
Musically, "Rollercoaster" is a pleasant surprise. Though its lyrics lament such modern-day threats as GMOs and addictive pharmaceuticals, its "Strawberry Fields"-ish intro and harmonized backing vocals recall the psychedelic-era Beatles, albeit from a contemporary pop/hip-hop perspective.
Sensuality snuggles with spirituality on Worthy's final full-length track, "Sacred Space." When Arie sings, "Your love makes me new. In your presence I heal," she could be singing either to the Divine or to a lover—and who says it can't be both?
---
Similar articles with the same tag: