Music Review: Long Ambients 1: Calm. Sleep.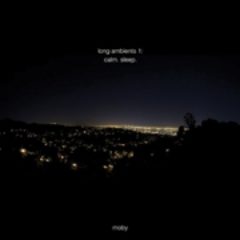 Long Ambients 1: Calm. Sleep.
Moby
Self-released
Along with being one of electronic music's most recognizable artists, Moby is an outspoken advocate of healthy living. In one of his latest efforts to promote the use of yoga and meditation for a balanced lifestyle, he has made available for free a four-hour album of ambient music for relaxation, meditation, and yoga: moby.com/la1/. An insomnia sufferer since age four, Moby originally created Long Ambients 1: Calm. Sleep for his own use while doing yoga, sleeping, meditating, or coming out of a state of panic.
Consisting of 11 tracks that span approximately 20 minutes each, Long Ambients is refreshingly sincere and tasteful where relaxation music is concerned. More soundscapes than songs in the conventional sense, these minimalistic offerings are numbered as opposed to having conventional titles. Devoid of vocals or beats, they largely comprise dreamy, atmospheric synth notes and keyboard sweeps; "LA4" features manipulated gong sounds and "LA9" is enhanced with reverb-drenched piano. While they are not listening music in the same way that most of Moby's work is, these songs are imbued with their creator's distinct aesthetic, as if made from the components of dismantled Moby compositions.
Though Long Ambients is a far cry from the dance-friendly fare for which Moby is better known, it's exactly what it is intended to be: a soothing, unobtrusive soundtrack to sleeping, yoga, or meditation.
---
Similar articles with the same tag: