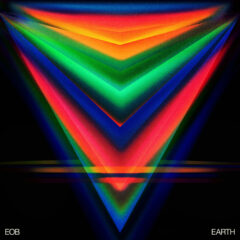 If there was ever any doubt that Radiohead wouldn't be Radiohead without guitarist Ed O'Brien, he annihilates it within the first 20 seconds of "Shangri-La," the kickoff track on his first solo album. From the tasteful blend of live and electronic instrumentation to O'Brien's unabashedly Thom Yorke-like vocal delivery, the song bears the unmistakable Radiohead stamp. In this case, however, that band's galactic art-rock sound is spliced with the stylish alt-pop appeal of Beck at his catchiest. Throw in a hint of Primal Scream's gospel-tinged dance music from the early-'90s, and the sum total is sonic catnip.
Inspired by the spirit of Brazil, where O'Brien (aka EOB) moved with his wife and children in 2012, Earth showcases its creator's abilities as a vocalist, guitarist, bassist, keyboardist, percussionist, electronic programmer, and songwriter. He is supported by musicians like Wilco drummer Glenn Kotche, Portishead guitarist Adrian Utley, and Radiohead bassist Colin Greenwood.
Along with "Shangri-La," some of Earth's most propulsive cuts are "Banksters," a song that O'Brien wrote in the aftermath of the 2007-2008 financial crisis, and "Olympik," a rave- ready jam that's driven by delay-drenched guitar and a hyperactive bass line. It's likely that the latter song owes much of its Zooropa-era-U2 feel to Earth's primary producer, Flood, who oversaw the making of Zooropa as well as some of the defining works by acts like Nine Inch Nails, Depeche Mode, and Smashing Pumpkins.
Peppered with well-executed vocal harmonies and rounded out by downtempo, acoustic guitar-based songs that hearken back to Beck's Sea Change ("Sail On," "Mass," "Cloak of the Night"), this album is far more than a sidebar in Radiohead's catalog. It stands on its own as a substantive, thoughtful, sometimes inspired effort.