Why a Creative Retreat Is Good for You
S&H's Creative Director sets off for Squam Lake and discovers the joy of retreat.
Squam Art Workshop - Kaitlyn Bouchard
How did the idea of a creative retreat come to you, and why did you choose one?
The decision to attend Squam Art Workshops was mainly work-related. We'd published a short article about Squam just before I joined S&H. So, we had the beginnings of a relationship with the gracious and talented founder, Elizabeth Duvivier. Because I feature so many artists in the magazine, I was able to convince my publisher that I should attend to make connections and to represent S&H. The art retreat is held twice a year—I went to Spring Squam, which traditionally has had more of a fiber-arts bent, but there were very good instructors for 2D media, which is what I opted for.
Give us an idea of the flow of the retreat.
It's a five-day retreat that runs from Wednesday afternoon through breakfast on Sunday, with one full day and two half-days of courses. There's plenty of free time for scheduled yoga, swimming/kayaking in the lake, or hiking/resting on the dock, and a huge vendor art fair on Saturday night. It's held at Rockywold Deephaven Camps on Squam Lake in Holderness, New Hampshire. Between 175 and 200 attend (including teachers and staff), and there are an average of 15 students in each workshop.
We could select from a big group of instructors and topics. I chose nature printing/ink mark-making with Kerry Lemon, and a collage and paint course with Alena Hennessy, both of whom have since appeared in the magazine. (In fact, Alena Hennessy was our 20th-anniversary featured artist for November/December.) The food was amazing, and so were the cabins. The lake was beautiful—it was like summer camp for grownups.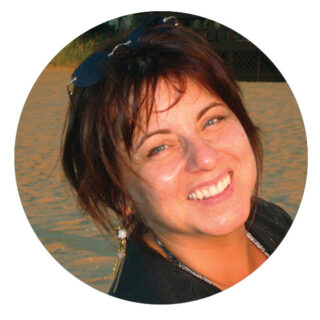 Sandra Salamony
What were your takeaways from this retreat experience? Did you learn anything new that has remained with you that you put into practice to this day?
While I learned bits of painting/printing technique that I still incorporate into my art, the true best experience was the opportunity to immerse myself in four-hour blocks of creativity—it's an amazing blessing. You can truly get zoned into making—almost like being in a deep restorative sleep. I don't often have the opportunity to commit four hours to just focus on making art, but I have found that two hours can be almost as effective if you've done your advance prep work.
What were the highlights of the retreat? What did you enjoy the most?
I was really looking forward to going. I'd registered for classes and was ready to go.
Then my dad passed away from pancreatic cancer two weeks before the retreat.
I couldn't imagine attending the retreat after that; I had helped with home hospice for him, and I was exhausted to my core. But, because I work at Spirituality & Health magazine, my coworkers encouraged me to go; they seemed to know that the retreat was just what I needed. And they were right.
Alena Hennessy's course started with each of us taking a solitary nature walk to collect materials to use as inspiration in our collage and painting. I cried the whole time. At the end of her class, as we did a group view of our finished pieces, I cried again in front of everyone as I explained how I'd felt connected to my dad during the nature walk—he was a master gardener. And, everyone was so lovely, understanding, and supportive of my grieving process.
Most of my cabinmates were knitters and embroidery artists, so evenings were spent in front of the fire with everyone curled up with a project. There was no pressure to make small talk, it was OK for me to be quiet and heal. It was "finding a tribe," and I've stayed in touch with many of the people I met.
Any advice for those seeking a creative retreat?
Do it! And don't be afraid to go alone—the support and inclusivity of creative people is welcoming and amazing. Being an introvert is no excuse for not attending—everyone reaches out to connect with you. And there are creative people of every level in each class. You can take courses out of your comfort zone and know that there will be other beginners attending with you. Also, be open to learning new things outside of the workshops: One of the women in my cabin held mini-embroidery lessons each evening on our porch overlooking the lake. squamartworkshops.com
—MB