Music Review: Incantations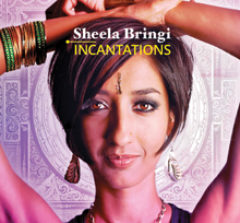 Incantations
Sheela Bringi
Black Swan
Soulful music has probably always blossomed from an array of musical styles and sounds across planet Earth, carrying within it a diversity of mystical teachings. Incantations, the debut solo album from Sheela Bringi, brings together two rich musical and spiritual traditions of Black American Jazz/Blues and devotional Vedic chanting from India—and the result is dynamic and intoxicating.
Bringi is an Indian-American vocalist and multi-instrumentalist who combines Indian musicality with jazz sensibilities for a new sound where harmoniums, horn sections, harp, and Bansuri flute all share a home together. The album was produced and recorded by longtime friend and musical collaborator Clinton Patterson. The two met at California Institute of the Arts and recorded and toured their groundbreaking Indian-Jazz fusion sound with the band PremaSoul. The highest moments of Incantations are a result of the Bringi-Patterson connection, as heard in their combined vocals on "Peacock," which also features smooth trumpet textures from Patterson, who was influenced by experimental Jazz trumpet player Jon Hassell.
Incantations is a musical mosaic offering creative modern interpretations of ancient Sanskrit mantras. "Sri Krishna" has Bringi's sensitive and gentle vocals, combined with the rich voice of guest artist Aditya Prakash, along with a scintillating rhythm section created by drummer Gene Coye and Ben Shepherd on bass.
"The Three-Eyed One," a variation on the Maha-Mrityunjaya mantra, is grounded in a captivating rhythm with saxophone and trumpet bouncing over the top. "Bhajmama Ram" and "Moonrise Divination" shine a light on Bringi's sweet harp (36-string) playing, which fits so nicely with her devotional vocals. "Buffalo-Demon Slayer" is a get-on-your-feet rocker that sneaks into Balkan brass territory with a drum and horn section that could hold its ground at the Guca Music Festival. Sheela Bringi's Incantations is the birth of Vedic Jazz!
---
Similar articles with the same tag: