Music Review: American Utopia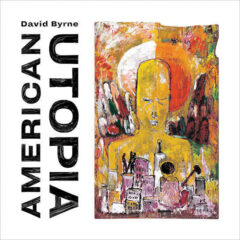 IN CONTRAST TO the stripped-down sound of his last solo outing, 2004's Grown Backwards, former Talking Heads front man David Byrne's newest album is a stir-fry of acoustic, electric, and electronic instrumentation.
As if to shoo away electronically averse listeners, American Utopia's opening cut, "I Dance Like This," toggles between subdued, piano-based verses and mechanical, synth-driven choruses. The effect is delightfully jarring, welcoming us to an album that finds Byrne and his myriad collaborators, including producers Brian Eno and Rodaidh McDonald, tastefully ornamenting their songs with samples, effects, and programmed drums.
DAVID BYRNE'S NEWEST ALBUM IS A STIR-FRY OF ACOUSTIC, ELECTRIC, AND ELECTRONIC INSTRUMENTATION.
As exemplified by track 2, "Every Day Is a Miracle," American Utopia is an extension of Byrne's multimedia project "Reasons to Be Cheerful," in which he seeks out causes for optimism. Insightful and often hilariously blunt, "Miracle" finds its singer pointing to the miraculous in the everyday, pondering the limitations of the human perspective, and putting our anthro- pocentric theology into perspective: "The chicken imagines a heaven full of roosters and plenty of corn, and God is a very old rooster, and eggs are like Jesus, His son. . . . A cockroach might eat Mona Lisa; the Pope don't mean shit to a dog."
Musically, "Everybody's Coming to My House" is one of this album's most upbeat offerings. Cowritten with Eno, it features a spiffy synth solo from Onyx Collective's Happa Isaiah Barr, as well as one of the most memorable lines in an album rich with pithy lyrics: "We're only tourists in this life. . . . Only tourists, but the view is nice."
Intriguing both musically and lyrically, American Utopia invites repeated listens. At a time when American life is growing increasingly distant from the utopian vision upon which this nation was founded, this music offers a complex, odd, and entertaining search for positivity.
---
Similar articles with the same tag: