Music Review: Patty Griffin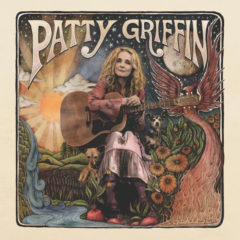 Patty Griffin's 2019 album is titled simply Patty Griffin and the eponymous title works. The Grammy Award-winning singer/songwriter sounds grounded in a new way on these 13 songs of self-reflection, spiritual attunement, and social awareness.
This is Griffin's 10th studio album and among her most global and diverse. It's also her first album since winning a battle against breast cancer. On "Hourglass" she sings of an eternal, limitless quality: "The hourglass never really runs out of sand, you get to the end and you just turn it upside down again." And turning outward lyrically on "The Wheel," Griffin is accompanied by fuzzy slide guitar as she laments the 2014 New York City police killing of Eric Garner, "choked to death by a policeman for selling single cigarettes."
In 2017, Griffin helped produce the Lampedusa Concerts for Refugees, a series of eight shows that featured Joan Baez, Lucinda Williams, Dave Matthews, and other artists to benefit the Jesuit Refugee Service, an organization that helps refugees in 52 countries to "heal, learn, and determine their own future," according to its website. (jrsusa.org).
Coproduced by Craig Ross, Patty Griffin is varied, with powerful ballads like "River," which points to the wisdom and strength of women, and "What Now," with it's repetitive, soothing chanting style and backing vocals by Robert Plant. "Boys from Tralee" is an Irish folk song that's swift and urgent, and "Luminous Places" calls on the power of love: "Love flows out of these luminous places, love lies down in the deep of the sea, falls out of the sky in millions of pieces on me."
---
Similar articles with the same tag: