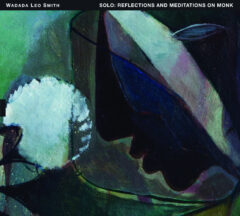 "Most people would never realize that I am closer to Thelonious Monk than to any other artist," writes Wadada Leo Smith in the liner notes for his latest album, Solo: Reflections and Meditations on Monk. After all, Wadada plays trumpet while the late, great Monk (1917–1982) was a pianist. But the instrument transposition works perfectly, and these songs serve as a cosmic connection between two kindred spirits of cutting-edge jazz.

Solo not only features playful interpretations of four classic Thelonious Monk songs, including "Ruby, My Dear" and "'Round Midnight," but half of the tunes are original compositions that conjure the spirit of Monk. "Adagio: Monkishness – A Cinematic Vision of Monk Playing Solo Piano" is a quiet piece that has a companion song on the album titled "Adagio: Monk, the Composer in Sepia – A Second Vision." Wadada writes about these, "I made two versions of this composition—one with a mute and one with an open horn—in order to illustrate the creative process of composing and performing." These bright and transparent pieces simulate Thelonious Monk's own practice of performing two versions of the same song, back to back.
Wadada Leo Smith was born in 1941 and grew up listening to lots of jazz. He wrote his first piece of music at 12. "Out of everything I heard, it was Monk, his ideas of a band and composition, that were the closest to what I dreamed of being as an artist," he writes. Wadada's own compositional technique called ahkreanvention is based on creating music through composition and improvisation simultaneously. A companion album was released simultaneously, titled Najwa.
---
Similar articles with the same tag: