Music Review: Land of Gold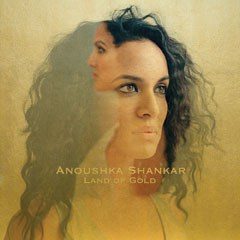 Land of Gold
Anoushka Shankar
Deutsche Grammophon
As a daughter and former student of the late Ravi Shankar, sitarist Anoushka Shankar is in possession of jaw-dropping precision and agility, but her latest recording is at least as much a showcase of her sense of melody as it is of her technical mastery. Together with drummer/percussionist Manu Delago and shehnai player Sanjeev Shankar (also a former student of Ravi Shankar), she pulls off the difficult feat of making an album that is both enjoyable and expressive of her outrage over the Syrian refugee crisis.
In protest of the suppression of the female voice, Shankar has enlisted a slew of female guest artists on Land of Gold. German-Turkish singer/songwriter Alev Lenz contributes a Loreena McKennitt–like vocal to the album's genuinely moving title cut, a beautiful lullaby written in response to the death of three-year-old Syrian refugee Aylan Kurdi; Rapper M.I.A. appears on "Jump In (Cross the Line)"; actress Vanessa Redgrave reads a work by poet Pavana Reddy on "Remain the Sea"; and the children's choir Girls for Equality sings on the album's final track, "Reunion."
Land of Gold was produced by Shankar and her husband, Joe Wright, whose background as a film director (Pride & Prejudice, Atonement) contributes to the album's cinematic feel. Additional producer Matt Robertson (Bjork) brings electronic elements to songs like "Last Chance," whose music wordlessly narrates the scene of a traveler running for his life. A similar sense of panic permeates "Crossing the Rubicon," on which Sanjeev Shankar's shehnai seems to imitate the wails of the persecuted.
While far from lighthearted, Land of Gold is not only a powerful statement, but also a fine piece of music that can be appreciated strictly for its beauty.
---
Similar articles with the same tag: