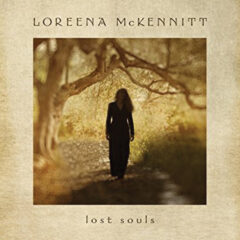 WHILE THE TITLE TRACK from Canadian vocalist/multi-instrumentalist Loreena McKennitt's 10th studio album takes its inspiration from Ronald Wright's 2004 book, A Short History of Progress, the title Lost Souls doubles as a description of the nine songs herein. McKennitt's first collection of original songs since 2006 consists of stray material from throughout her career, some of it dating all the way back to her days as a busker in the early '80s.
As on past efforts, musicians like violinist Hugh Marsh, cellist Caroline Lavelle, and guitarist Brian Hughes capably provide the backlighting for McKennitt's vocals, piano, and accordion. Longtime fans will find the resultant sound familiar and pleasing on songs like "The Ballad of the Fox Hunter," a W. B. Yeats poem that the singer set to music in the late '80s, and "The Breaking of the Sword," a lament on the death of those who died in 1917's Battle of Vimy Ridge. The latter piece is made the more poignant by the Central Band of the Canadian Armed Forces and the Stratford Concert Choir.
MCKENNITT'S FIRST COLLECTION OF ORIGINAL SONGS SINCE 2006 CONSISTS OF STRAY MATERIAL FROM THROUGHOUT HER CAREER.
As always, McKennitt's Irish and Scottish heritage is in full evidence on her latest offerings, but with its wealth of exotic instruments like nyckelharpa and hurdy-gurdy, Lost Souls incorporates influences from all over the globe. Taking partial inspiration from a Moldavian folk tune, the excellent instrumental "Sun, Moon and Stars" makes use of bouzouki, oud, lyra, and kanoun (the last two courtesy of Greek musicians Sokratis Sinopoulos and Panos Dimitrakopoulos, respectively), while "Spanish Guitars and Night Plazas," which began taking shape during the recording of McKennitt's landmark album, The Visit, climaxes with a flamenco guitar solo from Daniel Casares.
The title track addresses the pitfalls of rapid societal change. It makes for a poetic ending to this thoughtfully crafted, if somewhat subdued, collection of songs. —DAMON ORION
---
Similar articles with the same tag: