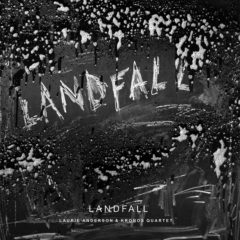 LANDFALL is an exquisite musical story of loss that's been sumptuously crafted in this inaugural collaboration by two longtime forces in experimental contemporary music: Laurie Anderson and the Kronos Quartet. While David Harrington of Kronos proposed a joint project for years, Anderson was reluctant. "I have no chops for orchestration or part writing. I'm a studio composer and shape music with electronics," she writes in the liner notes for Landfall. So Anderson relied on familiar techniques of improvisation and sound layering, and the result is an album of sweet and melancholy music and stories.
THE RESULT IS AN ALBUM OF SWEET AND MELANCHOLY MUSIC AND STORIES
Anderson explains that she "prepared rhythmic and atmospheric loops made of violin phrases, sound effects, and passages," and then asked Kronos to ". . . play these loops acoustically, breaking their elements into four parts." Anderson also wanted to emphasize the overtones and harmonics of what she calls "close-up violin," the sound details you hear when your head is right next to the instrument. Anderson also created (with Liubo Borissov) new software for Landfall that delivers text through sound called ERST (electronic representation of spoken text).
Originally a multimedia performance in 2013, Landfall is a journey of 30 short, interconnected songs that weave together a portrait of loss, impermanence, and dreams. The song "Everything Is Floating" relays Anderson's personal experience after Hurricane Sandy destroyed her Lower Manhattan studio on October 29, 2012: "After the storm I went down to the basement. Everything was floating. Lots of my old keyboards, thirty projectors, props from old performances. . . . I looked at them floating there in the shiny dark water. . . . And I thought, How beautiful! How magic! And how catastrophic." Anderson dedicated Landfall to her late husband, "the fierce and tender Lou Reed, who never once gave up."
---
Similar articles with the same tag: