Music Review: Beautiful Love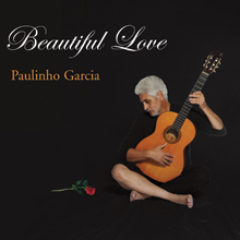 Beautiful Love
Paulinho Garcia
Jazzmin Records and Shrinktunes Media
Beautiful Love, by Paulinho Garcia could be the perfect soundtrack for this scene in your life: enjoying a sunset of many colors at the end of a late-summer's day while sipping refreshing tea and holding hands with a dear lover. The album would also serve well as a romantic bossa nova opening for a Woody Allen film set in Rio de Janeiro. The mood is sentimental, endearing, and playful.
Garcia was born and raised in Brazil, where he began singing at an early age and later learned to play drums, bass, and guitar. He moved to Chicago in 1979 and melted into the Windy City's jazz scene, playing with the band Made in Brazil until 1991, when he started his own band Jazzmineiro.
Of the 15 songs on Beautiful Love, all but three are sung in English. And lucky for us: this means we get to enjoy Garcia's deliciously sweet Portuguese accent. These light jazz pieces bring back memories from a time "when life was so very nice" in songs like "When I Fall in Love" (1952) by Victor Young and Edward Heyman and "I Wonder Who's Kissing Her Now" (1909), which was previously recorded by Dean Martin, Perry Como, and Ray Charles (to name a few) and inspired a Hollywood film in 1947.
Garcia chose to include one of Antonio Carlos Jobim's lesser-known ballads, "I Know I'm Going to Love You," as well as one of his own original tunes, "Do You Remember Me?" This taste leaves us looking forward to a new album that highlights Garcia's own work.
---
Similar articles with the same tag: