Eckhart Tolle's "Music for Inner Stillness"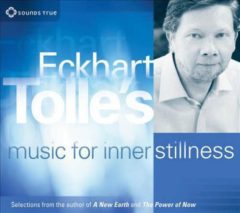 Music has always been a way to get in touch with emotion, nature, and inner stillness. And who better to choose a compilation of songs to promote relaxed presence than Eckhart Tolle? The author of The Power of Now and a globally established spiritual teacher, Tolle writes in his liner notes, "Each piece is eminently suitable for reducing or eliminating the activity of thought in you, the listener."
This new CD from Sounds True offers up an audio buffet of 11 songs that gently calm the nervous system and invite restful attention. Among my favorites is Susan Lincoln's recording of "Karitas," written by the 12th-century Christian mystic Hildegard of Bingen.
The flute pieces on this compilation each bring a different flavor: "Searching," performed by Riley Lee, was taken from his Shakuhachi Water Meditations album. Tibetan flutist Nawang Khechong, a former student of the Dalai Lama, brings such sensitivity and depth to his song, "For as Long as Space Endures," that it's no surprise he was nominated for a Grammy. The minimalist "Molecule 5," by Alex Theory, comprises gently pulsing waves of sound created by "tuning forks, chimes, and psychoacoustic production."
As Tolle writes in the liner notes, "Every sound . . . comes out of the silence and quickly disappears back into the silence. In that sense, music can be considered the most ephemeral, the most impermanent, of all art forms."
---
Similar articles with the same tag: