"Threading the Ether: A Cantata in 9 Movements"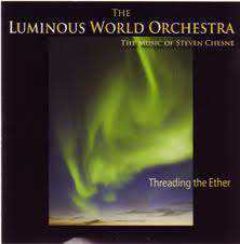 This is soul-nourishing music, leading beyond thought to a contemplative realm in which an acoustic symphony orchestra and instruments from foreign lands blend with and support a human choir in an ethereal song of love and devotion to the spirit of life.
The Luminous World Orchestra was created by Los Angeles-based composer Steven Chesne, who has devoted over 20 years to the exploration of music's effect on human emotion and state of mind. His work in film and television scoring has given him a place to experiment with these effects; he has composed the scores for over 300 episodes of popular network shows, including Batman: the Animated Series, Family Man, Life Happens, and many others. Since 2000, he has scored 17 theatrical films.
Threading the Ether is accessible and melodious, rich and satisfying, and opens the doors of the imagination to vast inner landscapes that, rather than removing one to another world, seem to bind the listener more to the beauties and essentially spiritual nature of Earth. Too emotionally compelling to be used as background or ambient music, this work demands that time be spent in quiet communion with it and all that it brings forth from the listener. It would complement yoga, meditation, or massage and embodies a spirit of devotion and bliss.
Chesne studied guitar and lute with James Smith and Pepe Romero and has performed in varied musical ensembles ranging from gamelan orchestras, the Medieval and Renaissance group "Squire's Masque," which he founded with Mark Chatfield, and the Ars Symphony Orchestra. He also has composed four symphonies, two concertos, two orchestral suites, two tone poems, works for string quartet and woodwind ensembles, and music for theater and ballet. His works have been performed by members of the Los Angeles Philharmonic, the L.A. Chamber Orchestra, the Hollywood Bowl Orchestra, and the Pacific Symphony, among others.
---
Similar articles with the same tag: