Music Review: Music for Psychedelic Therapy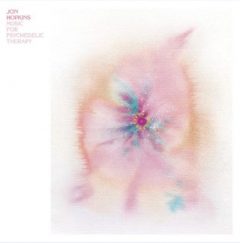 THERE'S A CURIOUS resonance between the names of America's Johns Hopkins and Britain's Jon Hopkins. The former is a university that has long been a nexus for research on psychedelic therapy and the latter is a Grammy-nominated electronic musician/producer who has worked with artists like Brian Eno, David Lynch, and Coldplay. Considering this, it's poetic that the latter Hopkins would create an album of music for therapeutic psychedelic journeys.
While working with researchers from the Department of Brain Sciences at Imperial College London, Hopkins discovered that the playlists used in psychedelic therapy consisted of disparate pieces of music by many different artists. Music for Psychedelic Therapy is the culmination of his efforts to create a more cohesive playlist that might help facilitate smoother sessions.
The ascending synthesizer tones in this album's first track, "Welcome," convey a sense of exhilaration, as if one is sitting in a roller coaster car making its way up the lift hill. It's a feeling that will be familiar to anyone who has experienced the anticipation and euphoria of psychedelic liftoff.
With nary a drumbeat on its nine tracks, and with hummable melodies in short supply, Music for Psychedelic Therapy is designed to be unobtrusive, yet conducive to feelings of wonder, relaxation, and upliftment. These simple soundscapes provide a comfortable backdrop for deep inner work while largely managing to avoid being overly flowery or saccharine.
The album's final track, "Sit Around the Fire," features spoken words from the late, great Ram Dass and sonic embellishments from musician East Forest. "We know that we're of the spirit," Ram Dass offers. "The ember gets stronger, the flame starts to flicker, and pretty soon, you realize that all we're going to do for eternity is sit around the fire."
---
Similar articles with the same tag: