Film Review and Director Q&A: Inhospitable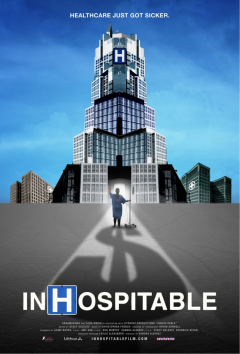 Documentaries about the broken American healthcare system are nothing new, but Inhospitable applies a laser focus to a part of the problem that has gotten relatively little attention: The role played by hospitals in the ongoing devaluing of patient care.
The film follows the chaos that erupts after UPMC, a billion-dollar Pittsburgh-based hospital system, declares that it will no longer serve customers who are insured by Highmark, a local rival. This leaves thousands of patients, some of them gravely ill, in the lurch. The company seems to embody the ruthlessly capitalistic practices that regularly put profits above people—even though, technically speaking, UPMC is supposed to be a nonprofit.
The thorny economics of healthcare is a complex issue, but Inhospitable does a solid job of illustrating the forces at play here and explaining how the runaway growth of both UPMC and Highmark led to this point. The talking heads featured in the film—politicians, journalists, former healthcare CEOs—manage to be quite informative and thoughtful. But most importantly (and effectively), the film brings us up close to some of the affected individuals, including several cancer patients who are in the midst of treatment. For these people, losing their doctors is not a nuisance that they can resolve in due time.
Much of Inhospitable takes place in 2019, but the film is framed by the challenges of the COVID pandemic, which brought the deficiencies of the American healthcare system to the foreground. As the documentary explains, the reason why our hospitals were so ill-prepared and under-resourced for the pandemic wasn't neglect, but the simple fact that, in an environment where the bottom line is everything, it makes no financial sense for hospitals to maintain extra stocks of equipment for a potential crisis. That, ultimately, is a chilling note on which to conclude.
Q&A With Director Sandra C. Alvarez
Bilge Ebiri: Did directing this movie change the way you manage your own wellbeing?
Alvarez: Researching a documentary about hospitals definitely changed my perspective on medical care and how to approach it. For me, one of the things that I realized was that, no matter how hard the doctors are trying to do their best, the doctors who work at a hospital are employees of hospitals. And what I found from my research (and what the film is about) is that so many hospitals are creating these monopolies or near monopolies in different regions around the U.S., and they are raising prices and acting like any other business when it comes to being profit-driven.
I was pregnant when I started working on this project, and I found out that the rates of C-sections are so much higher at hospitals compared to home births and births in a birthing center. C-sections are lucrative for hospitals, and something I did not want, so I knew I had to take things into my own hands. I decided to go the midwife route and have my first baby at Natural Birthworks in South Florida, and they were incredible. In fact, it went so well that I had my second baby with the same midwives, right in my bathtub at home (and thank good-ness for that, since it was a three-hour-labor from first contraction to birth!). Preventative care is key, and, again, unfortunately not always the focus of profit-driven institutions. So it's something we have to seek out and educate ourselves about.
Is UPMC an outlier in some way, or is this same story happening everywhere?
The story of UPMC becoming a large, billion-dollar nonprofit health system and buying out all of the surrounding hospitals and physicians groups and creating a near monopoly is certainly not unique to western Pennsylvania. Research shows that over 90 percent of markets have consolidated health systems, and post pandemic this is only going to increase.
---
Similar articles with the same tag: