Film Review: Royalty Free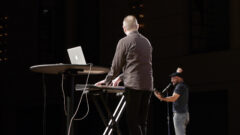 Kevin MacLeod is a composer with more IMDB credits than John Williams, Ennio Morricone, and Jerry Goldsmith combined. You may not have heard his name but you've almost certainly heard his music. MacLeod's tunes have scored films, YouTube videos, amusement park rides, video games, cartoons, and even NASA rocket launches.
The reason for the widespread use of MacLeod's music comes down to simple economics. Through a Creative Commons license, MacLeod's creations are available either entirely free or for a one-time fee. Since the launch of YouTube in 2005, MacLeod's music has become the unofficial soundtrack of the site, with tens of thousands of creators using his work.
To illustrate the difference music can make to a piece of visual art, Camarda plays a famous scene from Jaws, once with John Williams' score and then without that famous music. The difference is startling, and while MacLeod may not be working in the realm of Williams, his music brings video productions to life in similar fashion.
Many argue that MacLeod doesn't value his own work, and nowhere is this made more explicit than an anecdote involving Martin Scorsese's Hugo. MacLeod was approached by the film's producers, who wanted to use one of his compositions. Asked to name his price, MacLeod responded that they could have the piece for a mere $30!
The one segment where the doc departs from fawning over its subject comes in an uncomfortable discussion regarding whether MacLeod's free music devalues the work of other musicians. MacLeod coldly dismisses the fears of his fellow musicians, essentially arguing that if he can make a living, why can't they?
Those curious about the workings of the world of royalty free music will have many of their questions answered, but Camarda ends his doc in a manner that suggests an exploration of MacLeod the man is only beginning. When MacLeod admits to using alcohol to tackle his frequent bouts of depression, it's a jarring confession in what has thus far been largely impersonal film. As the credits roll, we're left with MacLeod's music rattling around our brains but also with some lingering questions.

---
Similar articles with the same tag: