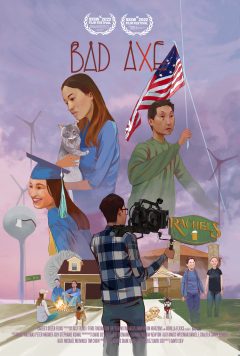 2020 wasn't a great year for Asian-Americans in the hospitality trade. Forced to adapt their businesses to ever-changing pandemic rules, restaurateurs struggled to keep their heads above water. Meanwhile, stoked by Trump's "kung flu" and "China virus" jibes, bigots began targeting Asian-Americans.
In March of that year, filmmaker David Siev leaves COVID-ravaged New York and returns to his family home in the small Michigan town of Bad Axe. There he begins filming the daily lives of his parents—Chun, who fled Cambodia as a child, and Rachel, a Mexican-American whose name adorns the family restaurant. He's joined by his older sister, Jaclyn, who takes over the running of the restaurant so that her parents can stay at home and keep safe. Also helping out his younger sister Raquel, completing her college studies via Zoom classes.
Initially Bad Axe's focus is on the Siev's struggles to keep their business afloat. Jaclyn becomes the dominant force, frustrated by her parents' seeming inability to take the virus seriously and also keep out of her hair. Under Jaclyn's stewardship, the business begins to find some form of success against the odds.
As Chun potters around his home, we realize why he needs to keep busy. Not the sort of man to seek therapy, Chun is clearly suffering PTSD from his experiences in the Cambodian killing fields.
What begins as David simply filming the daily lives of his family takes a politically charged turn in the summer when Jaclyn decides the restaurant should back he Black Lives Matter movement. When David features this footage heavily in a fundraising promo for the documentary he's assembling, his family is soon harassed. Raquel is followed at night by young men in pick-up trucks, leading Chun to tail her with a loaded shotgun at the ready.
What David has assembled is a love letter to his own family and to the resilience of immigrants and refugees. It's also a disturbing story of a family under siege. Chun raises the American flag each morning, but the film suggests he may never be accepted as an American by most of his neighbors.

---
Similar articles with the same tag: