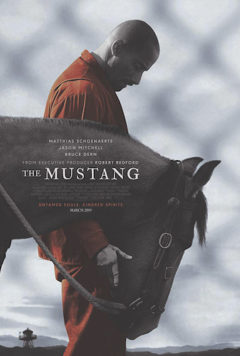 At a remote correctional facility out in the Nevada desert, a group of inmates helps train wild mustangs that have been rounded up by the government. It's a program designed both to prepare these wild horses to be sold at auction and to provide a form of restorative justice therapy, or anger management, for these hardened convicts.
Laure de Clermont-Tonnerre's drama follows Roman (Matthias Schoenaerts), a terse, tough inmate with a mysterious past who is holding back an immense amount of rage, as he enters the program and struggles to tame a particularly unruly horse he names Marcus. Finding himself at the mercy of a wild animal, this hardened criminal learns to reengage with the world.
It's a fairly riveting film, thanks mainly to Schoenaerts's intense performance; with just a couple of glances and the way he moves, he builds a whole inner life for this man about whom we initially know so little. And director de Clermont-Tonnerre keeps the potential prison clichés to a minimum; there's a lived-in authenticity to the world she creates, enhanced by a host of superb supporting performances. But the backbone of the movie is getting to watch how this rough beast of a man begins to learn patience, tenderness, and responsibility as he tries to care for this proud, uncontainable animal.
---
Similar articles with the same tag: