In the last part of her five-part series on mushrooms, Leslie Krongold looks at mushroom ... art, including dyes made from mushrooms.
Mushrooms are not only healthful, delicious, and useful for remediating a toxic environment, they also inspire people. If ever I doubted this, I was thoroughly convinced last year when I attended The Art of the Mushroom Show at a local Oakland gallery.

Daniel "Attaboy" Seifert, cofounder of Hi-Fructose Magazine and curator of the show, remembers his grandmother's kitchen filled with mushroom-themed needlepoint and ceramics. As a budding artist, he began painting mushrooms. He returned to this theme shortly after the 2016 presidential election. It was his mental escape and helped him cope not only with politics but with the loss of loved ones. "I like the idea that mushrooms can pop up overnight unexpectedly," explains Attaboy, "that they decompose [and] feed on the biological refuse and that what we see are just the flowers of a larger massive organism network underground."

Several years ago, I started my mushroom art purchases with a teeny, tiny mushroom painting by David Gardella. That was before I attended my first SOMA Camp, where David teaches. David went from living on 6.5 acres in Arizona and painting 3' x 3' canvases to living in San Francisco in a 400-square-foot apartment. He told me this arrangement impacted the scale of his artwork. My Gardella work is 2" x 2".

Merging his love of art, gardening, and permaculture, David has taught mushroom illustration and cultivation and led forays for a local college, Jewish community center, and SOMA Camp. Six years ago, he initiated the session Mushroom Mandalas: A Creative Celebration of Sacred Space. I never attended his experiential assembly where SOMA campers contribute mushrooms, lichen, and other natural artifacts to the collaborative project. I did take photographs of the final artwork. Next year this observer will evolve to a participant.

In my private mushroom art collection, I also have pieces I've created. During my first SOMA Camp experience I focused on the art track. I learned about mushroom dyes, fungi papermaking, and using watercolor paints to capture some unusual specimens. In an arashi shibori (a Japanese dye technique) class I made a beautiful silk scarf and met my mushroom buddy, Lisa Waterman. Lisa, a retired software engineer, is an artisan of many crafts including knitting, small batch natural dyeing, weaving, spinning, and sewing.

Lisa continues to attend the camp every year, deepening her focus on making and using natural mushroom and lichen dyes. Throughout the year she forages for mushrooms either alone or with other natural-dye enthusiasts. As a DIYer, she gets her fiber locally as well. Membership in Fibershed connects her to sheep farmers. If she needs a color from a mushroom outside of Northern California, she barters with others in the Facebook group Mushroom and Lichen Dyers United.

Although Lisa has met many natural-dye makers, few forage for mushrooms as their source material. The bulk of dyers, she tells me, use extracts they buy from someone. That's not what she's interested in. She maintains a small dye garden at her home or forages. And it's not easy. Foraging for mushrooms in cold and rainy weather is not everyone's idea of fun.

But perhaps muddy and damp forests are your thing? Maybe you find mushrooms as magical as we do? If you're curious about foraging in your neck of the woods, contact your local mycological society.

Want to read more? Go back to beginning with the first article in this series, Mushrooms Are Having a Moment.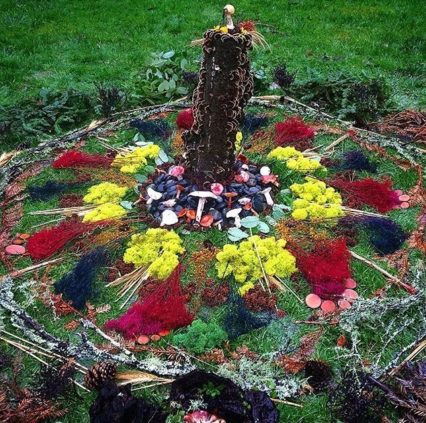 This mandala was created with mushrooms, lichen, and other natural materials under the guidance of artist David Gardella.