Film Review: What They Had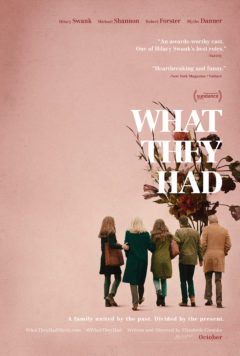 Terrific performances and an authentic portrait of a heartbreaking illness mark the touching drama What They Had, in which Hilary Swank and Michael Shannon play two very different siblings dealing with their beloved mother's (Blythe Danner) worsening dementia. Their obstinate father (played by the great veteran actor Robert Forster) refuses to recognize the reality of his wife's illness and won't even consider the idea of moving her into a memory care facility.
But Elizabeth Chomko's film doesn't stack the deck against any of its characters. We see the father's tender devotion to this woman: We learn that she had polio when he first married her, and we understand that, in a sense, he considers his ability to take care of her to be a measure of his own devotion and strength. Meanwhile, Swank brings to the character of the daughter a real sense of agonized indecision: She's torn between supporting her brother and her father, both of whom demonstrate a kind of stubbornness that seems to run in the family.
Chomko also gets the details right about dementia: the sense of uncertainty over how much a person remembers and recognizes, the various ways that they can sometimes mask their confusion, the ways that memories can surface and recede. Anyone who has had to deal with a loved one's struggle with this illness should be able to relate to this touching film. —Bilge Ebiri
---
Similar articles with the same tag: