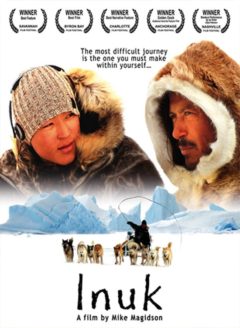 Directed by Mike Magidson
Inuk opens on a haunting scene from its protagonist's childhood, as young Inuk (Ivaq Morch) witnesses the freezing, drowning death of his father (Hendrik Qvist) while dog-sledding. The film then moves forward to the present day, showing us the now-teenage boy (Gaaba Petersen) as he goes about his day in the bleak urban landscape of Nuuk, Greenland's capital. Over narration, Inuk, impoverished and struggling with his alcoholic mother and the layabouts who hang around their house, reflects on his crisis of identity and about his disconnection from the old ways of the island's indigenous people.
Things come to a head when social services takes Inuk away from home and he winds up on the east coast of Greenland—near the land of his ancestors—where he gets paired up with an embittered hunter, Ikuma (Ole Jorgen Hammeken). The two—each haunted in his own way—learn to connect as they battle the elements and their own personal demons on a seal-hunting expedition. The mesmerizing and forbidding icy Greenland landscape almost becomes another character in their dramatic give-and-take. The spare dialogue and the austere storytelling may peg Inuk as a minimalist tale, but American director Mike Magidson packs this small film with big themes, including family, tradition, addiction, trauma, and even the effects of climate change on the island of Greenland. The result is a deceptively stylish, powerful film about a corner of the world we rarely see.
---
Similar articles with the same tag: