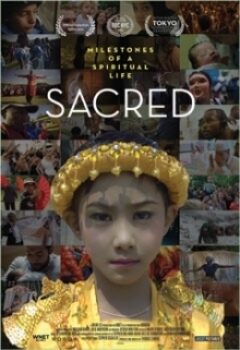 Director Thomas Lennon's film examines the role of faith by following various rituals from different religions and countries. Shot by more than forty crews from all over the world, Sacred offers up images of circumcision ceremonies, baptisms, weddings, funerals, and ordinary prayer—in places as varied as a Ukrainian center for Orthodox Judaism, the holy city of Mecca, Palestinian refugee camps, burial sites for Ebola victims in Sierra Leone, and Angola Prison in Louisiana.
Other films have, of course, achieved this montage-like approach to exploring humanity's differences and similarities—most notably, Ron Fricke's Baraka and Godfrey Reggio's Koyaanisqatsi. But Lennon's approach is more of a hybrid: He delivers gorgeous, striking images and lovely music, much as Fricke and Reggio did, but he also gives his subjects a voice. So we hear, on the soundtrack, these people's deepest hopes and fears and their thoughts on what spirituality means for them.
The results vary from the mundane to the transcendent. The area of politics—and of the conflict between religions—is only touched on briefly, which perhaps speaks to the film's more optimistic outlook. This may make it feel as though a part of the story isn't being fully told, especially with regard to organized religion. Nevertheless, as a viewing (and listening) experience, Sacred is never less than hypnotic.
---
Similar articles with the same tag: