Kundalini Yoga on the Ball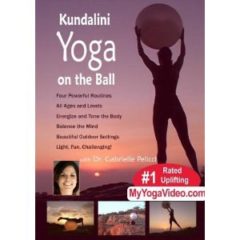 Energizing and uplifting, Gabrielle Pelicci's Kundalini Yoga on the Ball provides a workout that's fun and accessible for all ages and fitness levels, yet challenging enough to leave you room to grow. The only equipment you'll need is a blanket, towel, or mat for the floor, and a large exercise ball, sometimes known as a "stability ball" or "Swiss ball." Based on rhythmic movement and breathing, Kundalini yoga, the original and most powerful system of yoga, is known for its ability to build strength, flexibility, endurance, emotional balance, and mental clarity in its practitioners. Beautifully filmed among the pine trees on the bluffs overlooking the Pacific Ocean and accompanied by rhythmic drumming, Pelicci's exercise routines are designed to integrate body, mind, and spirit and balance the flow of energy throughout your whole being, as her soothing and encouraging voice leads you through your choice of four routines that exercise the arms, legs, abs, and core. Sessions of 40, 30, 20, and 10 minutes make it easy for even the busiest of us to manage a daily workout.
Dr. Gabrielle Pelicci, one of Los Angeles's premier yoga instructors, holds a bachelor's degree in psychology, a master's in education, and a PhD in humanities. She is also a certified massage therapist, certified Kundalini yoga instructor, and certified Healing Touch practitioner. She maintains a private holistic health practice in Los Angeles and several other US cities and teaches graduate and undergraduate courses in holistic health and mind/body medicine at several universities. She has served as the academic director for a private Los Angeles school for young adult addicts, taught at the UCLA Health System Ethics Center, and has traveled to Asia, Africa, South America, and Europe to study different cultural approaches to healing.
---
Similar articles with the same tag: