Book Review: The Power of Awe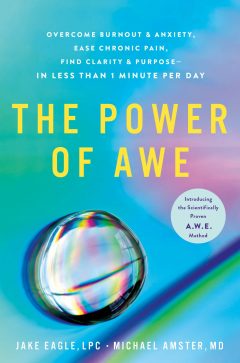 What if you were offered a microdose as potent as a psychotropic that lifts depression and gives you a buzz? Would you try it? Turns out, we all have access to something just as powerful: the sense of awe. In The Power of Awe, readers are introduced to the A.W.E. Method, a brief, versatile practice of "microdosing mindfulness" in order to create awe.
The A.W.E. acronym is from attention, wait, and exhale and expand. It's a pocket-sized sequence that can be done at any time, requires no willpower, and almost guarantees a reward. The authors, a longtime therapist and a physician, zeroed in on the A.W.E. Method after observing how simple breathwork paired with presence transformed their clients' sense of wellness.
A.W.E. requires no more than one extended breath and has no barrier to entry. Many integrative practices promote wellness, stress relief, and mental health, but just about all of them require premium assets: time, discipline, and money.
In this relentlessly researched book, the authors link the experience of awe to almost literally every mindfulness practice and theory of mind. They claim that their awe-creating A.W.E. Method is "less a technique to solve problems than a practice that takes us to a different state of consciousness." So which is the hero, awe or A.W.E.? Savvy authors, they make a case for both.
The last chapters of the book are devoted to brief, dynamic prompts to get you to gold, but for anyone with an existing mindfulness practice, using the acronym itself to guide you will give you sincere moments of connection.
Perhaps in the long term, the A.W.E. Method lacks rigor. The components of A.W.E. are adjacent to so many practices but are never the actual spiritual source of comfort. If you are looking for community, tradition, or values, you may prefer a committed spiritual or mindfulness practice instead. At its best, A.W.E. is deployed as a lift when you are down and a shift when you are stuck.

---
Similar articles with the same tag: