Book Review: Gentle Power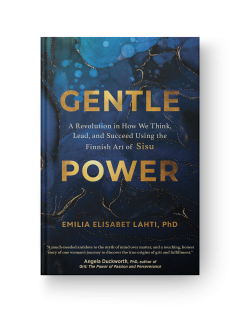 For many of us, the word "power" evokes images of executives around a conference table, politicians delivering fiery speeches, or, unfortunately, all kinds of violence. But what if power could be propelled by a compassionate, muscular energy that unifies rather than divides? Finnish social and positive psychology researcher Emilia Lahti argues that this is possible.
There's a way to manifest power (and therefore leadership, Lahti says) that incorporates gentle strength. She offers the Finnish concept of sisu—a potent mixture of perseverance, action, and fortitude—as a new way to think about power, describing it as a deep reservoir of energy based on an integrative power the world needs now.
"Gentleness is a way of moving forward with a kind of dynamic grace," Lahti writes. "It's about knowing when to push and when to pull back. It's about succeeding not through force, but through empowerment."
But does using softer power to lead really work? Lahti argues that turning away from a harsh, tough leadership ideal to one based on compassion is how we will survive. "Individuals across the planet are becoming increasingly curious about disciplines that value presence, slowing down, self-inquiry, and interconnectedness," she writes.
For Lahti, sisu in its gentle power form is "ultimately a victory of pliability over pain" and "discernment over sheer determination." And she should know: A survivor of domestic abuse, in 2012 Lahti founded a nonprofit, Sisu Not Silence, and in 2018 she completed a 50-day, 1,500-mile trek across New Zealand that included events intended to support the nonprofit.
The book prompts readers to consider how they might develop their own compassionate power, urging them to be curious about what's actually happening in a given conflict and to approach interactions with others without preconceived ideas. When we embody our sisu, Lahti says, we "open our eyes wide to whatever is at hand … with curiosity and courage that are soft around the edges."

---
Similar articles with the same tag: