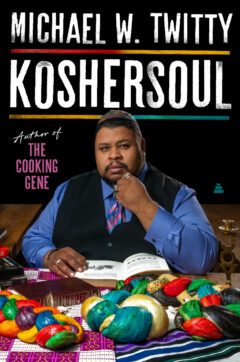 Reading Koshersoul can make you hungry—not just because it talks about food, but because it also discusses other nourishing aspects of life, including spirituality, community, belong-ing, and celebration. Twitty, a culinary historian, uses a unique blending of styles, genres, and idioms to prepare a sumptuous feast of facts, ideas, and poetic expressions about food and what it means in the shaping of people. Reading Koshersoul will help you see both food and life in a different way.
While the subtitle suggests a type of memoir, readers will soon discover that Koshersoul does more than narrate a personal story. Twitty describes his book as "an eclectic recipe file of diverse and complex peoplehood." The main characters—the people-hood—are Jews of African descent, including Twitty. The plot unfolds through the historical and ever-changing food traditions of Black and Jewish people.
"Kosher" and "soul," as described by Twitty, are quasi-ethnic terms used to communicate "the core stuff" of the lived experience of Jewish and Black people. Yet, Twitty cautions against using the combined term "koshersoul" as a label for any group affinity. One of Twitty's goals in writing the book was "to remove all the labels, not create another."
Koshersoul, in addition to including about 50 recipes for preparing food, also includes recipes for living a meaningful life.

---
Similar articles with the same tag: