Book Review: Sit Down to Rise Up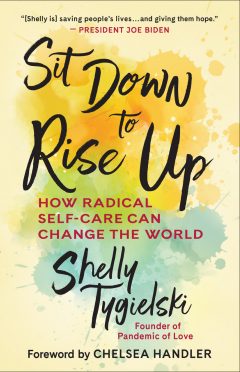 WHAT'S THE SECRET OF LIFE? The simple, but not necessarily easy, action of showing up, says mindfulness teacher Shelly Tygielski in Sit Down to Rise Up: How Radical Self-Care Can Change the World. "Consistently showing up for ourselves lays the foundation for our life's purpose: showing up for others," she writes.
Showing up means practicing radical self-care by asking for what we need and accepting help. Rather than being an egotistic enterprise, this kind of action translates into service to others, Tygielski explains.
"Self-care means we commit to taking an active role in safeguarding our mental and physical wellness, proactively and (especially) in times of duress," she says. "Self-care actually means caring for the entire community of which we are a part; it encompasses and protects this larger order."
Tygielski carries years of experience of integrating care for the self and community-building. In 2005, at the age of 27, she experienced a sudden onset of blindness caused by an autoimmune condition; out of this she established a "community of care" made up of women who regularly shared their needs with each other—both spiritual and practical—and sought to meet them. In March of 2020, as the pandemic ramped up, she posted a spreadsheet on social media one morning to match people in need of essential items to those who could help—a simple action that became Pandemic of Love, a global mutual aid organization.
Tygielski offers concrete advice on how to set up not only a realistic self-care strategy but also mutual aid structures that can serve both local and global communities. Again and again she emphasizes that truly caring for oneself is a key building block to larger healing.
"We are interconnected, so when one of us heals, we all heal," she writes.
---
Similar articles with the same tag: