Book Review: Heart Open, Body Awake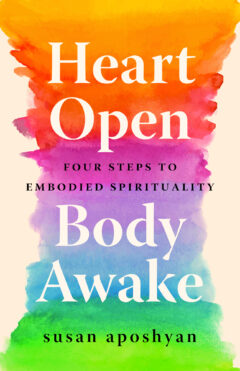 "Embodied" is a buzzword these days, flung around in an attempt to describe the effort to live grounded inside our physical selves. But what does it actually mean to be embodied, and how does that capacity translate into a spiritual life? In her new book, psychotherapist and longtime meditation practitioner Susan Aposhyan explains the intrinsic connection between body and spirit. "Embodied spirituality is an approach to life that says the more familiar we become with the various aspects and layers of our lives as bodily beings, the more connected and engaged we will be with others and with the whole world of our inner and outer experience," she writes.
Aposhyan came to her deep sense of embodied spirituality as a child. Gazing up at the stars, she felt the vastness of the universe and her own physicality in that vastness. "I was directly absorbed into the natural world, educated by it, without a thought of separation or distinction," she writes, and notes that this way of being allows us to begin "where we are, as we are, with whatever is aris- ing in [our bodies] right now."
The book describes four steps to embodied spirituality: opening your heart, both emotionally and physically; feeling your body; allowing what you discover in heart and body to affect you; and recognizing the connection between your own experience and the world. Throughout, Aposhyan invites readers to consider not just their emotional or cerebral landscape, but also their physical organs and structures and offers specific exercises with which to do so.
Why is all this important? Because our bodies are doorways to the sacred, Aposhyan says. "We can move through our lives, our bodies, our egos, our habitual emotional patterns—letting them transform, even dissolve, but seeing them as our paths," she writes. "We don't discard anything. When something touches our hearts, we open to it. The world is new."
---
Similar articles with the same tag: