Book Review: Finding Refuge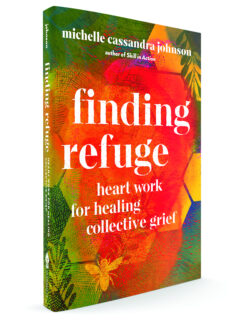 Synthesizing her work as a social justice activist, anti-racism trainer, and yoga teacher, Michelle Cassandra Johnson's latest book explicitly sets out to empower readers to prioritize grief in whatever form it may have taken in their lives—personal, global, or the "grief that is held within our collective DNA."
We live in a culture that largely ignores grief. Not only are we not taught how to grieve, most institutions and employers allow no more than three to five days bereavement leave, so there's hardly the time to figure it out.
Johnson is at her best when writing from her personal experiences as a person of color. Her descriptions of the trauma she experiences after being pulled over by a cop are visceral. Heartbreak lives in the body, impeding the progress of individuals and entire communities. What
Johnson calls "dominant culture" conditions us in such a way that at times we aren't even capable of recognizing grief, let alone moving through it.
"My process of grieving felt similar to the renovation our house was undergoing at the time," she writes, "I felt my insides under construction."
The book isn't overly prescriptive; Johnson is quick to point out there isn't one way to grieve. Each chapter ends with a practice, usu- ally a combination of mediation and journaling, the goal of which is to cultivate an openheartedness in the midst of sorrow. She wrote most of the book during the 2020 pandemic and the writing feels relevant and immediate, if a bit dashed-off at times.
---
Similar articles with the same tag: