Book Review: The Comfort Crisis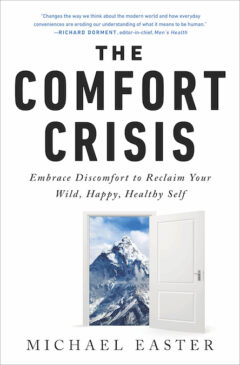 "DO HARD THINGS and the rest of life gets easier" is a fair summary of Michael Easter's The Comfort Crisis. "Most people today rarely step outside their comfort zones," he writes. "We are living progressively sheltered, sterile, temperature-controlled, overfed, under-challenged, safety-netted lives." (Although the last year has pushed most people, unwillingly, out of their comfort zones.)
Framed by a hunting trip to the Alaskan backcountry in search of a mythical herd of caribou, the book is at its most powerful when Easter writes from personal experience. For some, this might not be the most comfortable read (for one thing, only about two of the dozens of researchers, gurus, and experts interviewed are women), but given the book's thesis, it's worth it to push through. It makes you rethink the value of unstructured time and suggests doing repetitive tasks without pacifying one's mind with a podcast or audiobook. It's not comfortable at first, but according to Easter, this is how creativity gets activated.
Books and articles about the dangers of technology and the benefits of nature abound, but what we don't often hear about, and something Easter lingers on wonderfully, are the benefits of boredom and hunger. Something as seemingly simple as standing in line without looking at a phone can prevent some brain diseases. (Easter cites a study where a quarter of women and two-thirds of men chose to shock themselves rather than be alone with their thoughts.)
It turns out discomfort can prevent conditions ranging from obesity and heart disease to depression and anxiety. The human brain is not wired for constant comfort and so will find problems where none exist. He prescribes misogi, which is essentially getting out of one's comfort zone for an extended period. "New research shows that depression, anxiety, and feeling like you don't belong can be linked to being untested," he writes, and then shows us what it might look like to do just that.
---
Similar articles with the same tag: