Book Review: Happy Together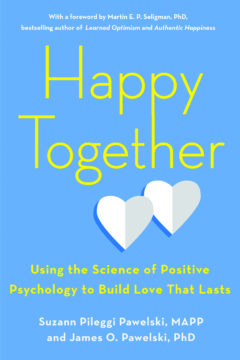 Could you write a book with your spouse and still be speaking to each other afterward? I don't think many of us could—my husband and I can't even agree on a dishwasher-loading policy. Suzann Pileggi Pawelski and her husband, James, have an edge, though: They are experts in the field of positive psychology. They have the skills, tools, and research to help them through, and they want to share these with readers.

Suzann is a writer and wellness counselor with a Master of Applied Positive Psychology; James is a director of education and senior scholar at the Positive Psychology Center at the University of Pennsylvania. Their coauthored book examines how the research in positive psychology can be applied specifically to coupledom. But they aren't here to offer one-size-fits-all advice. "Marriages," they write, "are not meat loaf, in which mastering a few steps will yield perfect results every time." Instead, they provide ways to reframe and savor a relationship, and to have the courage to be present for "brave beginnings and informed efforts."
The authors reference Aristotle and contemporary psychology, but they are equally as likely to write in an earthy, easy-to-understand way. "Happiness is not like a toilet seat," they say, for example. It's not up or down, since we have emotional states that are more nuanced. Tipping your relationship into the area where it is flourishing and growing, like a well-tended garden, is the goal, not a rainbow-filled happily ever after. With its mix of exercises, solid research and good cheer, this book is useful to couples, whether you've been together for six weeks, six months, or 16 years.
---
Similar articles with the same tag: