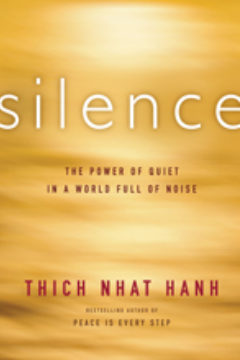 Silence
The Power of Quiet in a World Full of Noise
By Thich Nhat Hanh
HARPERONE
In his popular writings, Thich Nhat Hanh presents Buddhist teachings in a way that anyone can intuitively understand. His bestselling books such as Peace Is Every Step, The Miracle of Mindfulness, and True Love all have this simple, primal quality to them as they describe basic practices relating to essential human activities: sitting, walking, breathing, and eating. In Being Peace, he invites his readers to practice smiling. "To meditate well," he writes, "we have to smile a lot." He continues, "To be here and now, and enjoy the present moment is our most important task." It all feels very relaxing, comforting, and easy.
Hanh's latest book, Silence: The Power of Quiet in a World Full of Noise, continues in this tradition. Silence, he tells us, is the basic condition for us to be able to listen to our hearts. But we rarely experience "the sound of no sound" because we live such busy lives in a noisy world. For Hanh, noise isn't just something that we experience through our ears from external sources. "There's a radio playing in our head," he writes, "Radio Station NST: Non-Stop Thinking." If we could set aside time to turn down the volume, through the practice of mindfulness, we would be able to get in touch with our deepest desires and aspirations in life.
"Mindfulness gives you the inner space and quietness that allow you to look deeply, to find out who you are and what you want to do with your life," he writes. How do we practice mindfulness? As we have come to expect, Hanh's instructions are accessible and concise: "You stop, you breathe, and you still your mind."
---
Similar articles with the same tag: